Nan Graham, 91, sang quietly with the Westminster Abbey congregation as they began the first verse of The Lord is My Shepherd, one of the hymns also sung at the Queen's wedding to Prince Philip in 1947.
She was watching the funeral of Britain's longest-serving monarch, who was only a few years older than her, she noted, sitting in the cinema room at David Walker Gardens, a purpose-built installation for the elderly run by South Lanarkshire Council.
On Monday morning, the unit balanced solemnity with celebration. In the dining room, tables were set for a special afternoon tea, with triangle-cut sandwiches, royally decorated fairy cakes and flutes of sherry.
"It means an awful lot to watch this," Graham said. "I've never seen anything like it before."
She had watched the TV events across Scotland, Edinburgh and London over the past week "morning, noon and night", she said. "Seeing them all in my room, I felt they were close to me."
Her mother was a royalist, and her grandmother before her, "so she crossed the generations in our family".
Graham proudly remembers serving the Queen at two state dinners in Glasgow when she worked as a waitress in her twenties – one in City Rooms and the other at the Central Hotel. "Four of us took over the top table. I remember her smiling at me. What an honor it was. She was so nervous her hand was shaking for days beforehand.
She was accompanied by Jean Gilligan, 86. " It's very sad. She was a good yin. I've always liked his hats. Graham nodded in agreement. "I think she was well liked. You can see it here," she said, pointing to the crowd on the big screen in front of her.
The camera pans along a row of royals in the abbey, stopping in front of the queen's great-grandchildren, George and Charlotte. "I think it's the older two," Graham said.
Gordon Cowan, who served "for Queen and Country" in the Royal Navy, will celebrate his 100th birthday in November. Nursing a goblet of whiskey and water, he admired the wreath above the Queen's coffin and noted the Scottish accent of Iain Greenshields, the moderator of the General Assembly of the Church of Scotland, as he offered a prayer to the congregation.
The unit's temporary manager, Megan Watt, is sensitive to the need to mark moments like this with her residents, such as with the platinum jubilee, when they "partyed for three days". She said: "I think, especially for the generation we are looking after, it is important to mark this occasion. Some fought for their country during the last war.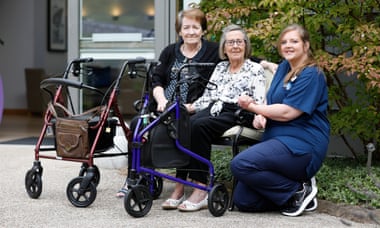 Other residents had gathered in the central courtyard of the garden, to listen to a piper play through a selection of Scottish tunes. This area has been at the center of many milestones for the care facility over the past few years, including during the pandemic, when the outdoors allowed residents to celebrate VE Day.
On Monday, it was adorned with purple-edged portraits of the Queen at different stages of her life. "She deserves it," said Helen Morrison, 82. "All these people standing up to watch. They all want to see her.
"He was a lovely person," added his friend Jeanette Graham, 76. "She looked so simple, and no matter who she met, she always had a smile. She had such a sweet way about her. I'm not royals, but you have to give respect where it is from.